Intensive Outpatient Eating Disorders Treatment for Adolescents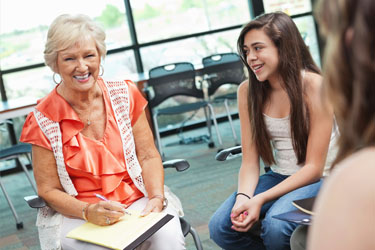 Our Adolescent Intensive Outpatient Program (IOP) is an essential component of treatment and recovery as the mission of the program is to empower families to provide their adolescent with the nutrition and support necessary for long-term recovery. IOP totals 10 hours of structured support for adolescents and families weekly. This time is comprised of group and family therapy sessions. This level of care allows for intensive consultation for families navigating recovery within the home environment. At this level, the Walden team focuses attention on the psychological and social aspects of the recovery process. At the same time, it collaborates with outpatient providers, who often include pediatricians, psychiatrists and nutrition consultants to the family. At this level of care, the adolescent is supported in the task of creating a life worth living outside of treatment.
Requirements of the Adolescent Eating Disorder IOP
Female or male, 12 to 17 years of age and their families.
Medically stable.
Treatment for the Adolescent Eating Disorder IOP
Case management.
Meal plan guidance.
Individual, group and family therapy.
Supervision of one therapeutic meal and one snack per evening.
Maudsley Method, which is the most effective treatment for adolescents with eating disorders.
Treatment Team for the Adolescent Eating Disorder IOP
Family therapist
Group therapists
Mental health counselors
Adolescent Eating Disorder IOP Group Programming
Dialectical Behavioral Therapy (DBT)
Cognitive Behavioral Therapy (CBT)
Creative expressions
Nutrition education
Relapse prevention
Family Support for the Adolescent Eating Disorder IOP
Intensive education
Family therapy
Coached meals
Support groups
Hours for the Adolescent Eating Disorder IOP
Three late afternoons per week/three hours per day.
Please call the individual clinic for times. Walden offers intensive outpatient eating disorders treatment for adolescents in the following locations: