Walden Clinic in Waltham, Massachusetts
Providing PHP, IOP and Outpatient Therapeutic Services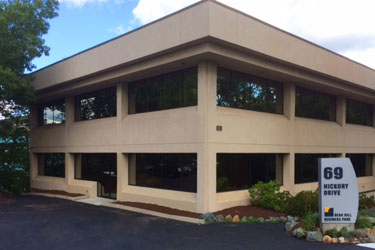 Waltham Clinic
69 Hickory Drive, Suite 2000
Waltham, MA 02451
Admissions: 888-791-0004
Phone: 781-899-2460
Fax: 781-899-1039
The Waltham clinic is Walden's largest satellite location. The 7,500-square-foot clinic, which is conveniently located off of Route 95, offers outpatient, intensive outpatient (IOP) and partial hospitalization (PHP) services for adolescents and adults with eating disorders. In addition, the Waltham clinic provides psychopharmacology, medication management and nutritional counseling for adolescents and adults seeking psychiatric care.
Partial Hospitalization Programs
The Waltham clinic's eating disorders Partial Hospitalization Programs (PHP) provide adolescents and adults all of all genders with the independence of living in the day-to-day world with a highly structured and supportive environment. The program is ideal for people who need more structure and intensive treatment than outpatient care alone can provide.
Intensive Outpatient Programs
The Waltham clinic provides eating disorders Intensive Outpatient Programs (IOP) for adolescents and adults or all genders.
The adult IOP is designed for individuals seeking additional support in their recovery process from an eating disorder. Adults attend the program in combination with outpatient treatment. The program is ideal for people transitioning from a higher level of care or those who need more support than their outpatient team can provide.
The adolescent IOP incorporates key aspects of the Maudsley Method, a family-based treatment that has been researched and shown to be the most effective treatment for adolescents with eating disorders. Family-based treatment views families as an invaluable resource in treatment because they are uniquely positioned to provide the support and supervision necessary to combat this life-threating disease.
Outpatient Services
The Waltham clinic offers outpatient services for adolescents and adults with a range of mental health disorders including depression and other mood disorders, anxiety disorders, ADHD, PTSD and eating disorders.
For directions to our Waltham, MA clinic, please click here.
Support Groups
Free Alumni Support Group for Adults hosted every Monday from 7:30 to 8:30pm. (Open to former Walden patients)
If you are not Walden alumni but interested in joining the support group, please call the clinic for more information
News Related to the Waltham Clinic and The Community It Serves
Pro Talk
- March 2017
Compulsive exercise can be tricky to sniff out, given that few people consider exercise a bad thing. In fitness facilities, where more exercise is often assumed to be better, few people are even attuned to the fact that too much physical activity may be dangerous. As a result, they may interpret hallmarks of excessive exercise as signs of prowess or achievement – something to emulate, rather than worry about.
Read More
Boston Herald
- October 2016
Boston University cross country star Andrea Walkonen won her second straight America East title in 2008, her lithe five-foot, seven-inch frame gliding across the 5K finish line a clean 34 seconds ahead of her nearest opponent.
Read More
WHDH-TV
- April 2016
A new program from Walden Behavioral Care for athletes with eating disorders is featured on WHDH-TV
Read More
Waltham News Tribune
- September 2015
Walden Behavioral Care, LLC, one of the country's leading hospitals for treating eating disorders, held an open house on Thursday to celebrate the opening of its newest and largest clinic at 69 Hickory Drive, Waltham.
Read More