Walden Clinic in Amherst, MA
Providing PHP, IOP and Outpatient Therapeutic Services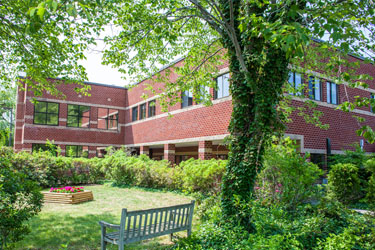 Amherst Clinic
100 University Drive
Amherst, MA 01002
Admissions: 888-791-0004
Phone: 413-582-0100
Fax: 413-582-0159
The Amherst clinic is Walden's fourth satellite clinic. The 6,000-square foot clinic, is just half a mile from the University of Massachusetts campus and offers easy access to both students and residents living in the five-college area. The clinic offers partial hospitalization and intensive outpatient eating-disorder programs for adolescents and adults including adult binge-eating disorder. The clinic also offers eating disorders outpatient treatment for adolescents and adults.
Partial Hospitalization Programs
The Amherst clinic's eating disorders Partial Hospitalization Programs (PHP) provide adolescents and adults of all genders with the independence of living in the day-to-day world with a highly structured and supportive environment. The program is ideal for people who need more structure and intensive treatment than outpatient care alone can provide.
Intensive Outpatient Programs
The Amherst clinic provides eating disorders Intensive Outpatient Programs (IOP) for adolescents and adults of all genders.
The adult IOP is designed for individuals seeking additional support in their recovery process from an eating disorder. Adults attend the program in combination with outpatient treatment. The program is ideal for people transitioning from a higher level of care or those who need more support than their outpatient team can provide.
The adolescent IOP incorporates key aspects of the Maudsley Method, a family-based treatment that has been researched and shown to be the most effective treatment for adolescents with eating disorders. Family-based treatment views families as an invaluable resource in treatment because they are uniquely positioned to provide the support and supervision necessary to combat this life-threatening disease.
Outpatient Services
The Amherst clinic offers eating disorders outpatient services for adolescents and adults.Insurance is not accepted for these outpatient services.
Support Groups
A Free Alumni Support Group for adolescents and adults is hosted every Monday from 5:30 to 6:30pm. (Open to former Walden patients)
For directions to our Amherst clinic, please click here.
News Related to the Amherst Clinic and The Community It Serves
Eating Disorders Catalogue
- November 2017
Here's what we know: People recovering from eating disorders not only benefit from – but require – a strong therapeutic alliance. It's the same extremely vital therapeutic alliance which deteriorates if there's a lack of humility.
Read More
New England Psychologist
- November 2017
The statistics for eating disorders in the LGBTQ community are unsettling. That's where places like Walden Behavioral Care come in. With facilities in Massachusetts, Connecticut, and Georgia, they have specific treatment programs for the LGBTQ community with eating disorders.
Read More
New Haven Register
- October 2017
Eating disorders are centered around negative body images. But artistic images, generated by those who suffer from eating disorders, can have a healing power. That was the message delivered Friday night at Albertus Magnus College, which hosted a program and art exhibition on "The Images of Eating Disorders."
Read More
WWLP-22News
- June 2017
Those who suffer from eating disorders within the LGBT community have a place to find support in Amherst. Walden Behavioral Care launched a program that is the only program of its kind in New England.
Read More
The Reminder
- March 2017
It affects the lives of 30 million Americans, encompassing all age groups, genders, races and socio-economic groups. Yet eating disorders – anorexia nervosa, bulimia, binge eating and other specified feeding and eating disorder behaviors – are among the least discussed forms of mental illness.
Read More
WBGY Springfield
- June 2014
Up to 24 million people of all ages and genders suffer from an eating disorder in the U.S. Jim Greenblatt, Chief Medical Officer of Walden Behavioral Care and author of a new book, "Answers to Appetite Control," talks about the struggles with eating and also different questions viewers on Facebook have about eating disorders.
Read More