Walden Clinic In Dunwoody, Georgia
Providing Partial Hospitalization and Intensive Outpatient Eating Disorders Treatment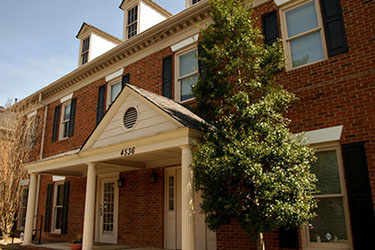 Dunwoody Clinic
4536 Barclay Drive
Dunwoody, GA 30338
Admissions: 888-791-0004
Phone: 770-458-8711
Fax: 770-458-8640

The Dunwoody clinic offers partial hospitalization, intensive outpatient and outpatient programs for adolescents and adults with anorexia, bulimia, binge eating disorder and other eating disorders. Programming includes individual and group therapy, nutrition management, meal planning and various modes of skills training. Our programming is designed to deliver intensive treatment, while individuals maintain the ability to work, go to school and live at home.
Partial Hospitalization Programs
The Dunwoody clinic's eating disorders Partial Hospitalization Programs (PHP) provide adults and adolescents of all genders with the independence of living in the day-to-day world with a highly supportive environment. The program is ideal for those who need more structure and intensive treatment than outpatient care alone can provide.
Intensive Outpatient Programs
The Dunwoody clinic provides eating disorders Intensive Outpatient Programs (IOP) for adolescents and adults of all genders.
The adult IOP is designed for individuals seeking additional support in their recovery process from an eating disorder. Adults attend the program in combination with outpatient treatment. The program is ideal for people transitioning from a higher level of care or those who need more support than their outpatient team can provide.
The adolescent IOP incorporates key aspects of the Maudsley Method, a family-based treatment that has been researched and shown to be the most effective treatment for adolescents with eating disorders. Family-based treatment views families as an invaluable resource in treatment because they are uniquely positioned to provide the support and supervision necessary to advance to recovery.
For directions to our Dunwoody clinic, click here.