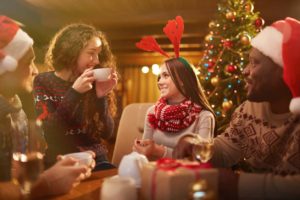 Are you hosting someone with an eating disorder this holiday season – and unsure how to best to handle it without adding more stress and uncomfortable moments?
I've seen many articles recently providing tips on how an individual with an eating disorder, or someone recovering from one, can take proactive steps to "survive" the holidays. But it can be tough to find advice for those supporting that individual, especially during a time of year that places a huge emphasis on food and meals.
Friends and family can play incredibly significant roles in treatment and recovery – especially during the holidays when you'll likely be spending more time with that individual. Here are some tips to ensure that everyone at the table feels safe and comfortable:
1) Focus On The Company, Not The Food.
Although it can feel like holidays are solely about food, the truth is, they are really about togetherness. Try to remember this as you welcome or enter the house of a friend or relative. The purpose is to connect with loved ones. Perhaps consider placing topics of conversation in a jar and when the conversation gets too "hot" (i.e. politics, religion, food, body weight), switch it up. Or, if you are supporting an individual you know is struggling, do not partake in the inevitable "who binged" conversations. Reframe the discussion to food as nourishment and enjoyment.
2) Do Not, I Repeat, Do Not Comment on Weight, Body Size, Food Portions
Seriously do not do it. It's not appropriate at work. It's not appropriate at home. It's never appropriate. How are comments like these helpful? The truth is, they do more harm than you might ever imagine, especially if someone is already in a vulnerable state. Don't talk about weight loss, weight gain, cleanses, or how many calories you will need to burn tomorrow – ditch all that talk!
3) Make No Assumptions.
Eating disorders do not discriminate. You cannot just look at someone and know they have an eating disorder. Many individuals with eating disorders and their close families might struggle with shame and guilt. For a time they might choose to keep their eating disorder and treatment private. At the same time, many people struggle with subthreshold food and body issues. Bottom line: make no assumptions. Just because someone hasn't shared directly with you doesn't mean there isn't an issue. For that reason, even if there isn't a disclosed eating disorder at your holiday gathering, please revert to numbers 1 and 2.
4) Put the Scale in the Closet.
If you are hosting, there is no need to have the scale out in the bathroom. Our weight fluctuates throughout the day every day, not just on holidays. Please put it away today (and maybe every day).
5) Pictionary Anyone?
Plan activities beyond eating and sitting at the table. Research has shown how critical distraction can be in terms of an individual's need to partake in unhealthy behaviors. Consider planning some activities for guests to participate in throughout the day. It could be as simple as a game of cards!
Extra pointer – avoid language that is harmful (i.e. "I skipped my last meal so I could eat more." "I wore extra-large pants today." "I will just have to go to the gym every day the rest of the year."). If you are unsure what is helpful and what is harmful check this out.
Let's shift the language and share the responsibility this year! Instead of surviving the holidays, let's embrace the chaos and take ownership of the part we each play in shifting how we talk about food, body and weight in this world.
####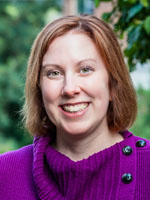 Kristin Brawn is the assistant vice president of marketing and community relations at Walden Behavioral Care. She is responsible for developing and executing proactive community relations strategies that raise awareness of the programs and services that Walden offers. To achieve this, Ms. Brawn works closely with Walden staff including executives, program directors and marketing and community relations associates to promote programs, events and new initiatives. She also maintains close relationships with crisis centers, mental health providers, dietitians and doctors in New England and leverages regional and national partnerships with key eating disorder organizations. Prior to joining Walden, Ms. Brawn spent a decade working for the nonprofit Multi-service Eating Disorders Association (MEDA) in Newton, Mass. She began her career at MEDA as an office coordinator, but was quickly promoted to roles of increasing responsibility including director of project management, chief operating officer and executive director. As executive director, she worked closely with the board of directors to manage finances and raise funds to help elevate the organization. She was also responsible for coordinating MEDA's national conference which included selecting speakers, overseeing conference advertising and marketing and coordinating volunteers. Ms. Brawn earned her bachelor's from the College of the Holy Cross and her master's from Boston University School of Public Health.