While Martin Luther King Junior was a brave and profoundly brilliant advocate in the African American civil rights movement, I think it is important today, and everyday, to reflect on his teachings in a way that resonates with each of us individually. Being that this is a mental health blog, I thought it useful to relate MLK's preachings of tolerance and support for the whole person to those who have been touched by a mental illness.
Here are 5 ways with which MLK has influenced my connection to mental health / illness that I hope will also resonate with you.
"If you can't fly, then run. If you can't run, then walk. If you can't walk, then crawl. But whatever you do, you have to keep moving forward."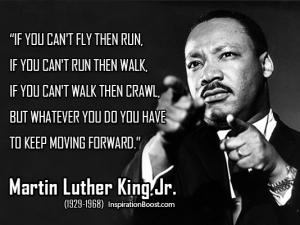 What I hope that you can take from this message is not the actual physicality of this statement, but the stressed importance of doing whatever you have to do to reach your intended goals. MLK is minimizing the ways with which we as human beings would try to make excuses for why we can't reach our goal, and is letting us know that it doesn't matter what our individual obstacles are, that there is a way with which to move forward and that is what is most important. Continuing to look behind can be detrimental in our pursuit toward progress.
2. "I have a dream that my four little children will one day live in a nation where they will not be judged by the color of their skin, but by the content of their character."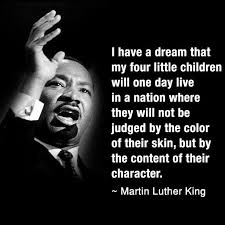 I think this quote is really important in the mental health field. There is so much stigma attached to mental illness, it is crucial that we, as advocates in this field, do not perpetuate the stigma that how a person looks externally directly correlates to what is unfolding internally. Someone struggling with Bulimia may not look as though they are "sick," you may have no idea that your colleague has sunk into such a deep depression that they are contemplating suicide and you may not realize that the overweight person on your floor is actually struggling with Binge Eating Disorder, not laziness. We are doing society a disservice by allowing external appearances to determine how we treat people.
3. "Faith is taking the first step even when you don't see the whole staircase."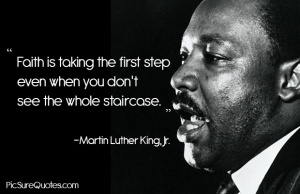 I really like this quote because sometimes when we think about recovery, it seems daunting and ambiguous. "I've been like this my whole life, so how do I know it will be better if I don't know any different?" Most people tend to stick with what they know, as they have grown comfortable with this normal. Even though you may feel unsure (trust me, I recognize that uncertainty is the MOST frightening), taking the first step toward your new life (whatever that might entail) is so satisfying. I think that what MLK was trying to get across is that even though you don't know exactly how or when your future will unfold, you have to believe in the possibility that change can be positive. Think about how great you will feel once you make it to the 5th or 6th step!
4. "We must accept finite disappointment, but never lose infinite hope."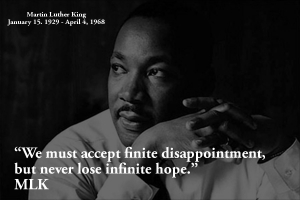 We talk about hope a lot in our treatment here at Walden. I think what hope means to those who are fighting for recovery is that there will inevitably be a few obstacles and a few disappointments, but that we shouldn't let that dim the hope that we will recover and that we can learn something from each bump in the road. As long as hope remains stronger than defeat, recovery can and does happen.
5. "Our lives begin to end the day we become silent about things that matter."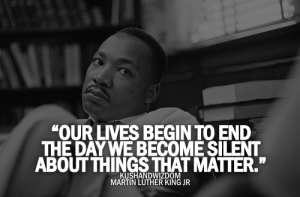 This is my favorite quote of this collection. I find it so relevant in the mental health field. Those who are struggling with internal battles of mental illnesses have been told by society that that is where these struggles should remain: inside. In staying silent about these disorders we only give society more of a reason to fear mental illness.
Let's keep MLK's legacy of acceptance and open-mindedness going, by practicing some of the mantras that he instilled to his following. Let's educate society about matters that they may not have been exposed to or those who have been misinformed. Perhaps speaking about what you have seen as a malady your whole life could drastically improve the life of others with the same "malady" simply by sharing it. The mental health field needs each of us to become an advocate for social justice and change.
####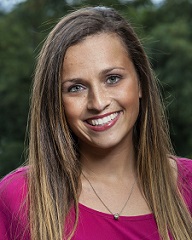 Natalie Cohen is the Senior Marketing and Community Relations Associate as well as the Social Media Coordinator for Walden Behavioral Care.  She earned her Bachelor of Arts degree in Journalism from the University of Maine in Orono. Her favorite part of working at Walden is being able to act as an advocate for clients suffering with mental illnesses and interacting with other eating disorder professionals in the community. In her free time, Ms. Cohen enjoys yoga, shopping and doting on her dogter Bella.