New Haven Register
May 16, 2016
With cases of eating disorders on a continuous rise since 1950, there is a growing need for treatment, both for adolescents and adults.
Last week, Walden Behavioral Care opened the first dedicated eating-disorders clinic in southeastern Connecticut at 157 Goose Lane.
According to Rebekah Bardwell Doweyko, assistant vice president of clinical operations for the Connecticut region, "20 million women and 10 million men suffer from clinically significant eating disorders some time in their life." That's according to www.nationaleatingdisorders.org.
"By age 6, girls start to express concerns about their weight, and 40 to 60 percent of elementary school girls 6 to 12 are concerned about their weight or becoming too fat," Doweyko said Monday.
Eating disorders shouldn't be underestimated. They can cause "severe electrolyte imbalances that can lead to heart failure and sudden death," Doweyko said. There are eating disorders that are well known, including anorexia and bulimia, and others that are less well known, such as night eating syndrome (an eating disorder "characterized by a delayed circadian pattern of food intake" according to waldencenter.org.)
It's a complex field, but eating disorders are treatable, and Walden does so through individual, family and group therapy, events such as a "challenge breakfast" at a local restaurant, and practice in the clinic's two kitchens, where families can make healthful meals rather than catering to the family member with an eating disorder.
"Let's go back to a time when the eating disorder didn't sort of live with you; you would make one meal" for everyone, Doweyko said. "The expectation is that they eat an appropriate amount of that meal."
In the case of a child or adolescent, "Parents resume control of the food," Doweyko said. "We would start by validating how hard the meal is for them."
A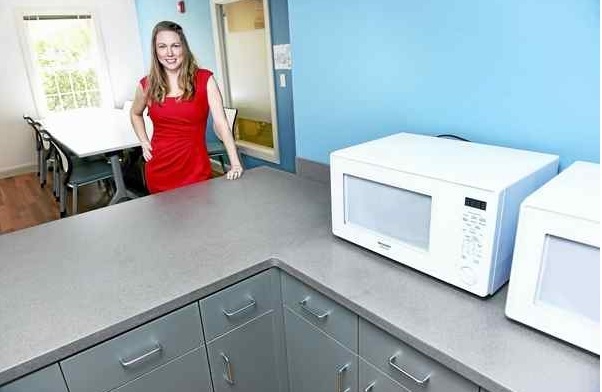 goal might be to become healthy enough to take part in activities.
"We have several adolescents (whose) attendance to prom is really hinging on their health and their progress in treatment," she said.
For adults, the challenge may be to eat just two or three Oreos during a snack break, rather than a whole package. It's important to learn that behavior, because "we're never going to live in a world without Oreos," Doweyko said. "Maybe it's their favorite and something they grew up loving."
Walden, based in Waltham, Massachusetts, has a clinic in South Windsor and plans to open others in Rockville General Hospital in Vernon and in Manchester. The company offers treatment for a variety of eating disorders, some of which aren't well known or easily diagnosed.
Popular perceptions of the problem aren't always accurate, Doweyko said. "When people think of eating disorders, they think of anorexia, but anorexia is actually the rarest eating disorder," she said.
The most common is binge-eating disorder, whose symptoms include eating large amounts of food rapidly, eating in isolation and eating large amounts of food when not hungry, Doweyko said.
Also common is bulimia, in which bingeing — for example, eating 3,000 calories in an hour — is followed by purging — vomiting, using laxatives, diuretics or enemas, or by intense exercise.
Bulimia involving exercise is especially hard to diagnose, Doweyko said, because "we're all so gung-ho on dieting and exercise." Not being able to tolerate a lack of exercise can be a symptom of an eating disorder, she said.
Less common disorders include atypical anorexia, in which the patient has the symptoms of anorexia — eating too little, fear of gaining weight, obsession with body image — but is not abnormally thin.
Another is called avoidant/restrictive food intake disorder, which is basically anorexia without the body image issues. ARFID might start with a child choking on a green bean and progress to being afraid to eat all green foods and then to eating just chicken nuggets and french fries. According to a 2014 study, 14 percent of patients seeking treatment have ARFID, 30 percent are male and their average age is 12.
The new Guilford clinic has a staff of 14; Doweyko has been a licensed professional counselor since 1999 and has been with Walden for three years.
Valerie Bryden, a registered dietitian on staff, said patients are put on a balanced diet with three meals and three snacks daily.
"If we're dealing with an adolescent we help the parent figure out … foods and amounts in the meal plans," she said. Bryden said the staff has "a soft spot for people who are struggling, especially the kids, just trying to help them walk through everything."
She said she enjoys her work at Walden because "there's not a lot of places to feel like you're impacting somebody."
Olivia Stumpf, an advanced-practice registered nurse, manages medication, which may include anti-depressant or anti-anxiety drugs.
"Everybody has their niche and I love the age group" that Walden focuses on — "adolescents and for the most part younger adults," she said.
Doweyko said that between adolescents and adults, "ideally we'd like to have 12 in each program, but we wouldn't cap it. I would do anything I could to not turn anybody away and to help them."
The clinic accepts Medicaid and all insurances except Medicare.
Patients must be at least 12 years old and "have a primary diagnosis of an eating disorder," Doweyko said.
Walden's Guilford clinic will hold an open house from 4:30 to 7 p.m. Thursday. For more information, call 203-491-5060 or go to www.waldeneatingdisorders.com.
This story has been edited to correct that binge-eating disorder is the most common eating disorder (not bulimia).