I love figure skating. I grew up idolizing Dorothy Hamill, and like most teenage girls in the late 1970's, I copied her famous haircut. Over the years, I watched Katarina Witt, Kristi Yamaguchi, and Michelle Kwan become champions. And in January of 2016, I was in the audience watching breathlessly as Ashley Wagner, Mirai Nagasu and Gracie Gold represented the U.S. at the World Figure Skating Championships in Boston. These athletes not only inspire me, but also my daughter who is following her own dreams as a competitive figure skater. The grace, power and artistry of figure skating continue to captivate me.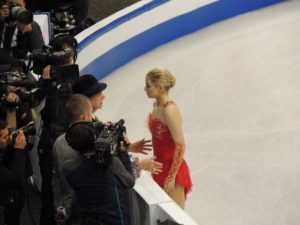 I was really sad when my daughter texted me the news that Gracie Gold, a 2014 Winter Olympics bronze medalist, announced she was taking a break from competition because she is suffering from anxiety, depression and an eating disorder.
Those who follow skating closely know that Gracie's been struggling publicly since a fateful outcome in the 2016 World Championships. A U.S. national champion in 2014, she lost her title in 2015, reclaimed it in 2016, and entered the 2016 World Championships with everyone expecting her to win. After the short program, she was in first place. But a disastrous performance in the free skate kept her off the medal podium, landing her in fourth place overall. She did not hide her disappointment and was, what one report called, "mercilessly self-critical."
Gracie seemed to unravel in the season that followed, performing below expectations in nearly all competitions. She attributed her poor performances to not being in shape and even went so far as calling herself "overweight," a comment she later clarified as being more related to her assessment of her fitness level for competition than her body weight. Another troubled performance in the 2017 national competition ended with Frank Carroll, her coach of four years, deciding it was time to part ways.
In an article posted in January 2017, Coach Carroll was quoted as saying, "She has been in a deep, deep, deep depression." In that same article, Gracie called what she was going through, "a funk..

[not] an actual depression." Now she's opened up, revealing a bit more about the emotional pain she's been experiencing and, for the first time, revealing that an eating disorder is part of the picture.

As a fan, I feel for her. With the 2018 Olympic qualifiers fast approaching, I can only imagine the courage and the strength it took for Gracie to step back at this pivotal point in her career. With tremendous pressure to perform, huge expectations to compete and an international spotlight shining on her, taking a stance against the momentum of a sports career, whether it's a world-class career, a high school or collegiate career, is no easy feat.

As a parent, my heart hurts. This could be anyone's child. Depression and anxiety affect so many adolescents and young adults, and athletes are two to three times more likely to experience an eating disorder than non-athletes. The reality is, it happens.

As an eating disorder treatment professional who works with competitive athletes, I know that what Gracie is dealing with is not something she can address overnight. Tackling her eating disorder, depression and anxiety will take months (maybe years) of treatment, therapy and support. Her career will have to take a back seat while she does the work to heal, strengthen and recover.

While I'm sad for Gracie, I also applaud her. She prioritized her health over her sport. She is engaged with professional treatment and she is investing in her own self-care.

By sharing this news with the public, Gracie's bold move draws attention and much needed honest dialog to the topic of mental health in general, and its impact on sports performance in particular.

Making these decisions took bravery and guts, especially for someone of her stature, in her sport, living under the scrutiny of the public eye and performing alone on a big sheet of ice with cameras following her every move. On the brink of some of the biggest competitions of her career, and in the wake of such disappointment and distress, you know how painful these decisions are.

While she's undoubtedly inspired many youths to follow their life's dreams, Gracie is also teaching another invaluable life lesson: You don't ignore your mental health and well-being. If there's a problem, it's okay to ask for help and take a time out – even in the biggest of times, even for the most elite competitors.

There is no doubt in my mind that Gracie is making the right choice. Nothing is more precious than her emotional and physical well-being. Nothing. Olympic gold is not more valuable than her health.

This quote from Gracie really struck me because it shows her determination to work through these tough times and her optimism for the next chapter of her skating career:

"This time will help me become a stronger person, which I believe will be reflected in my skating performances as well."

Seeking help for an eating disorder or other mental health condition isn't something to be ashamed of or embarrassed about. And as Gracie points out, it certainly does not mark the end of her competitive career. Instead, she views it as it really is: an opportunity for a new beginning.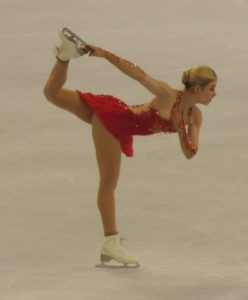 Eating disorders are serious conditions, impacting both physical and mental health. There's no shortage of studies showing an increased risk of eating disorders among athletes of all sports – from figure skating, dance and gymnastics, to running, crew and swimming, and even to football, soccer and tennis.

One of the biggest misconceptions about eating disorders in sport is that the eating disorder really isn't a big deal. In the beginning, most who engage in behaviors like dieting honestly believe it will help their performance. Others may binge eat in response to stress and anxiety, compensating by overtraining or purging. Many people mistake the rigid focus on diet and efforts to achieve a certain body shape or size as signs of discipline and commitment to sport. Athletes often ignore the physical symptoms and warning signs of distress in pursuit of their goals. Some work hard to hide their condition out of fear or due to stigma. Others might be in denial.

But as Gracie Gold's actions show us, entering treatment takes courage and offers hope. If you are an athlete with an eating disorder, please don't be afraid to seek help. Trust that everything will be okay when you surround yourself with a support network that includes trained professionals.

And so, I applaud you Gracie Gold. You are the ultimate champion and a true role model, both on and off the ice.

####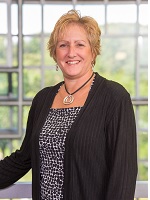 Dr. Quatromoni is a senior consultant for Walden Behavioral Care, and one of the nation's top minds on the intersection of sports nutrition and eating disorders. As a registered dietitian, she has more than a decade of experience working with athletes with disordered eating and has published several papers on both clinical experiences and qualitative research on recovery experiences of athletes. Dr. Quatromoni is the Department Chair of Health Sciences and a tenured associate professor of Nutrition and Epidemiology at Boston University where she maintains an active, funded research program. In 2004, she pioneered the sports nutrition consult service for student athletes at Boston University. Dr. Quatromoni was recently named a 2016 Outstanding Dietetics Educator from the Nutrition and Dietetic Educators and Preceptors (NDEP) Council. She earned her B.S. and M.S. degrees in Nutrition from the University of Maine at Orono and her Doctorate in Epidemiology from the Boston University School of Public Health.