What if I told you that you have been invited to a highly specialized training camp designed to help you become a better, stronger athlete?
Developed by a multidisciplinary team of experts, including sport psychologists, dietitians, and exercise science professionals, every aspect of the program empowers participants to become their best selves and develop the skills needed to thrive both inside and outside of sport. Utilizing premier evidence-based methods, each session teaches athletes how to fuel for sport and life and develop training mastery. Staffed by former athletes and trained professionals who understand the unique challenges, requirements and high demands of competitive sports, each athlete receives individualized sessions designed to help identify their personal limitations, face fears, and build resiliency skills to navigate whatever challenges come their way.
To most athletes, everything I just described probably sounds like a dream come true. Yet, most of the athletes who enroll in this program don't exactly feel this way during their first week. How could this be?
The Perspective Shift
As with many things in life, perspective can drastically change one's experience. The program I described is Walden Behavioral Care's GOALS program. Designed to treat eating disorders, disordered eating and overtraining in competitive athletes, those entering the program often conceptualize the process as analogous to physical therapy. Similar to rehabilitation for injuries like an ACL tear, treatment is often viewed as an unlucky but necessary break from the activities they love required to heal and return to sport.
Unfortunately, similar to physical therapy, many athletes in our program begin to feel vulnerable in their time away from training and competition and doubts about returning to sport begin to fester. Even elite athletes, like Patriots Football star Julian Edelman, admitted in physical therapy, "During the first three weeks after my injury, I hated the world."
The Mindset
Had he maintained that attitude, he might never have come back to win another Super Bowl. Yet like other elite athletes, Edelman worked hard to adopt a new perspective and told himself, "Tough times don't last. Tough people do." Re-conceptualizing ACL injury rehab as a new form of training, Edelman approached each physical therapy exercise with the same focus and intensity he was known for on the football field and the results soon followed.
It is rare to find athletes who approach eating disorder treatment with this mindset. Although Edelman was not in treatment for an eating disorder, his fears and feelings often mirror many athletes who admit to the GOALs program. During our first session, many athletes often express concerns that entering eating disorder treatment could possibly end their athletic career. These fears are understandable since outside of treatment, people often feel confused about eating disorders in sport. Coaches, athletes and non-athletes alike frequently admit they do not understand the illness, are unfamiliar with treatment, are unsure how one can recover and if they can return to sport. The same uncertainties can also be applied to concussions.
The Reality
Research and media stories have helped athletes and the general public understand that concussions are a different form of injury that may not be visible but nonetheless threaten the athlete's ability to perform, participate in sport, and live a healthy life. Eating disorders, which experts refer to as "metabolic and psychiatric injuries," are in this same category for they can remain invisible to the untrained eye. Yet athletes experiencing disordered eating and/or problematic physical activity will often become be less competitive in sport, more prone to injury and risk permanent physical damage that, in some cases, can be career-ending or life threatening.
The Opportunity
Fortunately, similar to Edelman's ACL injury recovery, eating disorder treatment programs can empower athletes to dig deep, shift perspective, and embark on a rigorous journey to acquire the mental and nutritional skills needed to achieve their full athletic potential, sustain a positive mindset and build a healthy body that will stand the test of time. Other athletes, like Boston University's track star David Proctor, and competitive cyclist Ben Frederick have begun sharing their stories to help others in similar situations. Both athletes have committed to educating others about the devastating consequences of eating disorders in sport and the power of specialized treatment. With the proper tools in place, David and Ben emerged from treatment stronger than ever and used their newly learned skills to continue excelling in each of their respective sports.
Rehabilitation and/or treatment can sometimes feel like a prison or a punishment for athletes. David Proctor, Ben Frederick and Julian Edelman chose to use their experience in rehab and/or treatment as an opportunity to achieve greatness and longevity in sport.
Which perspective will you choose?
If you, or someone you know, is interested in healing their relationship with food, body image and sport in order to take their game to the next level, check out the Walden GOALS eating disorder treatment program for athletes.
####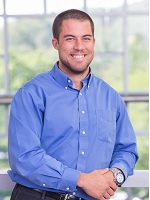 Matt is a licensed registered dietitian nutritionist and certified strength and conditioning specialist. He is a lead nutritionist and exercise science advisor for the Walden GOALS program. Matt devoted the early part of his career to refining the art of training elite collegiate and professional athletes. In graduate school, he developed expertise in nutrition, behavior change and eating disorders. Matt now devotes his practice to translating nutrition and exercise science into practical solutions. As a lead member of the GOALS team, Matt is known for his dedication to educating and empowering athletes of all backgrounds to facilitate a full and meaningful recovery from disordered eating. Matt holds a B.S. degree in Kinesiology from the Honors College at The University of Massachusetts Amherst, a master's degree in Applied Exercise Physiology and Nutrition from Columbia University and was a dietetic intern at Boston's Brigham and Women's Hospital.