The GOALS Program – Intensive Outpatient Treatment for Competitive Athletes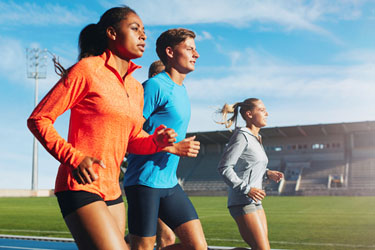 The GOALS Program For Competitive Athletes
Walden Behavioral Care – Waltham Clinic
69 Hickory Drive, Suite 2000
Waltham, MA 02451

For more information please contact
Emily Slager at 781-899-2460 x4022 or
[email protected].
Athletes are two to three times more likely than the average person to develop an eating disorder. Those impacted by disordered eating or nutritional deficiencies will become be less competitive in sport, more prone to injury and risk permanent physical damage that, in some cases, can be life threatening.
Walden's GOALS Intensive Outpatient Program is built specifically for athletes of all ages and levels (high school, collegiate, professional), optimizing the balance between nutritional needs and performance goals.
Mission
To equip athletes with the mental and nutritional skills to achieve their full athletic potential and sustain a positive mindset.
Expert Team
Our multidisciplinary team of experts includes counselors, sport psychologists, dietitians, and exercise science professionals. As experienced athletes and licensed professionals, they understand the unique challenges, requirements and high demands of competitive sports. Meet the team.
Program Elements
Each athlete receives an individualized assessment, counseling, group education and exposure to essential life skills that allow them to thrive both inside and outside of their sport.
Our curriculum is built on Five Pillars of Strength:
1) Fueling for Sport and for Life
2) Eating Competence
3) Body Esteem
4) Recovery Skills
5) Resiliency
Learn more
In some cases, treatment can be conducted without interruption of training or sport participation. When athletes can benefit from time off, our team works to fully preserve the athlete identity and ensure the strongest possible return to competition. Our certified exercise specialist ensures this smooth transition.
Program Requirements
Participants must be 16 years or older.
Current participant in competitive individual or team sport
Does not require a higher level of care.
Treatment
Case management, including coordinated care with outpatient team
Supervision of one therapeutic meal
Individual therapy
Group therapy
Program Schedule
Individuals attend three nights per week, three hours each night, at Walden's Waltham clinic. Most insurances accepted. Physician referral not required.
News and Blog Posts Related to the GOALS Program
Paula Quatromoni
- April 2017
Every parent wants to see their child succeed, in school, athletics, the arts and socially. We want our children to be competent; competent students, competent drivers and competent decision-makers. It is also a parent's job to raise competent eaters.
Read More
Emily Slager
- April 2017
While many who participate in organized sports reap the many benefits such as increased self esteem, connectedness and greater body image, others have a different experience. Pressure to perform and compete at high levels can place undo stress on those who might be at risk for mental health conditions including eating disorders.
Read More
Lauren Smith
- March 2017
This semester, I have the amazing opportunity to serve as a nutrition intern for the Walden GOALS Program for competitive athletes. I''ve discovered these four things, all which came as a surprise (at least to me):
Read More
Training & Conditioning
- March 2017
The latest research indicates that athletes with eating disorders should not be treated the same as the general population. In response, a clinic in Massachusetts has developed a unique, athlete-specific program.
Read More
Pro Talk
- March 2017
Compulsive exercise can be tricky to sniff out, given that few people consider exercise a bad thing. In fitness facilities, where more exercise is often assumed to be better, few people are even attuned to the fact that too much physical activity may be dangerous. As a result, they may interpret hallmarks of excessive exercise as signs of prowess or achievement – something to emulate, rather than worry about.
Read More
Michael McDonough
- February 2017
Athletes are 2-3x more at risk for eating disorders compared with other populations. Those impacted span all types of sports, competitive levels and genders. One example is David Proctor, a former All-American runner at Boston University and current Olympic hopeful
Read More
Emily Slager
- January 2017
While there is no "one-size-fits-all" approach in determining when / if someone struggling with an eating disorder could return to exercise or their sport, here are some of the criterion we use to help determine the appropriateness of incorporating exercise back into the life of an eating disorder patient.
Read More
Paula Quatromoni
- January 2017
An interview with the Senior Consultant to Walden Behavioral Care's GOALS program, an eating disorders treatment track designed especially for competitive athletes, Paula Quatromoni, DSc, MS, RD, LDN
Read More
Journal of the Academy of Nutrition and Dietetics
- December 2016
Athletes are at higher risk than the general population for eating disorders, and risk is heightened for athletes in thin-build sports, including track. Collegiate athletes are particularly vulnerable to disordered eating when the transition from home to the college environment adds to the stress of performance pressures and the high demands of the sport environment.
Read More
Andrea Walkonen
- December 2016
My name is Andrea. I've been an elite, competitive runner for almost 20 years. I was a Division I scholarship athlete who became an All American and a national record holder in college. I also developed an eating disorder.
Read More