Residential Eating Disorders Treatment for Adults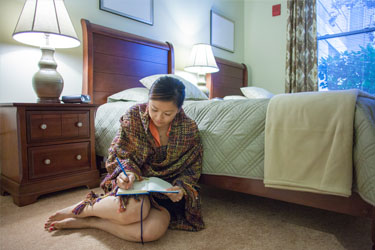 The residential eating disorders program for adults is a structured, medically monitored, therapeutic residential program for adults requiring 24-hour care as they recover from an eating disorder. The focus of treatment is to gradually transfer the responsibility of recovery to the individuals themselves as they directly experience and relearn healthy attitudes and behaviors with food.
Requirements of the Adult Residential Eating Disorder Program
Female or male, 18 years of age or older.
Require 24-hour care, but not hospital level of care.
Cannot be successfully treated in a less intense setting.
Ready to practice cooking, meal planning and other tasks leading to greater independence.
Treatment for the Adult Residential Eating Disorder Program
Onsite physician and nursing care.
Nutrition management and counseling.
Individual, group, family, couples therapy.
Case management.
Coordination of care with an outpatient team.
Discharge planning.
Treatment Team for the Adult Residential Eating Disorder Program
Psychiatrist
Nursing
Dietitian
Therapists
Mental health counselors
Adult Residential Eating Disorder Group Programming
Dialectical Behavioral Therapy (DBT)
Cognitive Behavioral Therapy (CBT)
Self-esteem
Nutrition education
Expressive therapy
Body image
Relapse prevention
Adult Residential Eating Disorder Program Hours
Twenty-four hours a day, seven days a week.
Walden's residential eating disorders program is located at Walden Place in Waltham, Massachusetts. If you are a healthcare professional and would like to schedule a tour of our residential program, contact Kristin Brawn at [email protected].