Inclusive Treatment for LGBTQ Community
You can heal in a safe and supportive environment.
Making the decision to seek eating disorder support can feel overwhelming. We want to help put your mind at ease. We realize that finding healthcare facilities who understand and have experience working with the LGBTQ community can be difficult. Here at Walden Behavioral Care, we are a community of caring professionals that recognize and appreciate your unique journey.
Did you know that we are the only eating disorder treatment center in New England that offers personalized support for the LGBTQ community at all levels of care?
This means that we welcome individuals of all genders, ages, races, ethnicities, sexual orientations and socio-economic statuses and promise that everyone who enters our care will be treated by our empathetic team of specialists who are experienced in working with diverse populations. Our goal is to provide all individuals with the highest level of evidence-based support in an environment that feels safe and inclusive.
We can help you.
We have clinics throughout Massachusetts, Connecticut and Georgia. Our 15 locations include two inpatient units, two residential facilities and 11 ambulatory care clinics. Individuals can receive care at clinics and hospitals located in Amherst, Braintree, Hyannis, Milford, Peabody, Waltham and Worcester, Mass.; Guilford, South Windsor and Vernon, Conn., and Alpharetta, Decatur and Dunwoody, Ga.
Eating Disorders in the LGBTQ Community
Several studies show the risk of developing an eating disorder is higher in the LGBTQ community. This may be reflective of common environmental issues that are unique to the LGBTQ community such as discrimination, bullying, fear of rejection, social isolation and the incongruence that may be felt between one's sex assigned at birth and their gender identity.
Additionally, the LGBTQ community may face an increased risk of co-morbid mental health conditions such as anxiety and depression, and a higher incidence of suicide attempts as compared with the general population. These factors can amplify the risk of developing an eating disorder.
Eating Disorders in Gay, Lesbian and Bisexual Individuals
Only 3% of American men identify as being gay or bisexual while 42% of American men with eating disorders identify as gay or bisexual, according to the International Journal of Eating Disorders.
Research referenced by the National Eating Disorders Association (NEDA) shows that beginning as young as age 12, gay, lesbian and bisexual teens may be at higher risk of binge eating and purging, as compared with their heterosexual peerse. Other studies found that both adolescent females and males who identify as lesbian/gay, bisexual and "mostly heterosexual" experience binge eating and purging episodes more frequently than their heterosexual peers.
Eating Disorders in Transgender Individuals
In a survey consisting of more than 1,300 self-identified LGBTQ youth aged 13-24 conducted by the Trevor Project and NEDA:
54% reported having received an eating disorder diagnosis
71% of transgender respondents who identified as straight reported having an eating disorder
58% of individuals diagnosed with an eating disorder have also considered suicide
Eating disorders in transgender individuals can occur for a variety of reasons including but not limited to body dysmorphia, the desire to change one's body, severe body dissatisfaction and efforts to relieve symptoms of co-morbid psychological conditions.
Research from the Journal of Adolescent Health shows transgender youth are more susceptible than cisgender straight or gay peers to developing eating disorders. Another study from the Journal discovered transgender youth are four times more likely than cisgender, heterosexual female adolescents to report eating disorder behavior, and twice as likely to abuse weight loss pills and engage in self-induced vomiting.
Research from Washington University in St Louis reveals that eating disorders are five times more prevalent in transgender college students than their cisgender peers.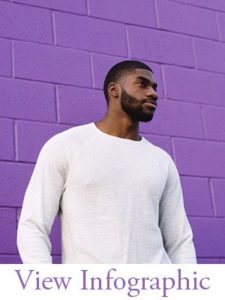 Treatment for LGBTQ Individuals With Eating Disorders
Sometimes, people who identify as LGBTQ may find it difficult to find treatment professionals who understand their unique eating disorder journey and the circumstances that may have led them to seek support. Unfortunately, there is a lack awareness and expertise of this population within the medical and psychological fields, which limits the resources available to the LGBTQ community.
We want you to know that we are here to help you. We have extensive knowledge in diverse populations and tailor each of our treatment plans to best accommodate the unique needs of all individuals. Eating disorders don't discriminate and neither should their treatment. We welcome all individuals who are ready to get the eating disorder support that they deserve. Offering a full continuum of care, we have the level of care that is appropriate for you:
In our Amherst, Mass., South Windsor, Conn., and Guilford, Conn. clinics, we are proud to offer a dedicated treatment track with programming specific to LGBTQ population. This includes:
Process groups deepening support around gender, sexual orientation, family/relationships, body image and other LGBTQ-specific issues
Skills building aimed at self-acceptance, validation and stabilization of disordered eating behaviors
Psychoeducation on co-occurring risk factors
Access to invaluable LGBTQ community resources
If you are concerned that you – or a loved one – may have an eating disorder, we are here to help. Please call 888-791-0004 to speak with a Walden eating disorders intake specialist, or complete the form on this page.