When Walden clinicians present at schools to staff, teachers or parents, there is almost always at least one question from the audience about self-injury.
"Do you see a lot of kids who self-harm?" or "What can we do to prevent kids from engaging in self-injury?" or "Why do kids intentionally hurt themselves?"
The term self-injury, sometimes interchanged with the terms self-harm, self-mutilation or cutting, is the act of intentionally harming oneself, often repeatedly.  Many people equate self-injury with cutting. But the truth is self-injury also encompasses less obvious ways that we think of harming oneself, including reckless driving or binge drinking for example.
Did you know there is a high correlate between eating disorders and self-injury? In fact, a study by Dr. Cynthia Bulik found that those with an eating disorder were 1.5 to 10 times more likely to have been treated for deliberate self-harm than those without eating disorders. Females are also more likely to engage in this behavior than males.
Self-injurious behaviors, much like eating disorders, serve a purpose. They allow an individual to express themselves without having to use words. They allow an individual to physically feel a release. They allow an individual to be distracted, even if just for a few minutes. They allow an individual to feel a false sense of control. Behaviors, whether eating disorders or self-injury, are distractions from what is really going on internally for someone.
Much like an eating disorder, when a person is engaging in self-injury they will often isolate, be irritable, and even wear more layers of clothing. They might also have scars or cuts that they cannot really explain.
It is estimated that up to two million Americans engage in this behavior, and the majority are adolescents.
So why are adults uneasy and often unsure about how to address self-injury? Well, it can feel scary and overwhelming, especially if you know very little about the topic – the same reasons why many adults find it challenging to discuss eating disorders. There are some key points to keep in mind though for whether you are planning to check in with a friend and/or family member about a possible eating disorder and/or self-injurious behavior:
1) Check in with yourself and your feelings. Are you stunned? Confused? Ashamed? Consult a clinician and acknowledge how you are feeling. Try not to be judgmental – remember your friend and/or family member already feels ashamed about this behavior.
2) Get educated! Learn about ways you can support, distract and better understand eating disorders or self-injury so that you can help your friend and/or family member break the cycle.
3) Model communication. Whenever someone is struggling and trying to hide their emotions it is important to teach them how to properly communicate in order to have their needs met. Let your friend and/or family member know that you are available to them.
4) Get professional help for yourself and your friend and/or family member and begin healing.
####
About the author: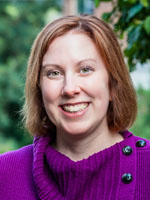 Kristin Brawn is the assistant vice president of marketing and community relations at Walden Behavioral Care. She is responsible for developing and executing proactive community relations strategies that raise awareness of the programs and services that Walden offers. To achieve this, Ms. Brawn works closely with Walden staff including executives, program directors and marketing and community relations associates to promote programs, events and new initiatives. She also maintains close relationships with crisis centers, mental health providers, dietitians and doctors in New England and leverages regional and national partnerships with key eating disorder organizations. Prior to joining Walden, Ms. Brawn spent a decade working for the nonprofit Multi-service Eating Disorders Association (MEDA) in Newton, Mass. She began her career at MEDA as an office coordinator, but was quickly promoted to roles of increasing responsibility including director of project management, chief operating officer and executive director. As executive director, she worked closely with the board of directors to manage finances and raise funds to help elevate the organization. She was also responsible for coordinating MEDA's national conference which included selecting speakers, overseeing conference advertising and marketing and coordinating volunteers. Ms. Brawn earned her bachelor's from the College of the Holy Cross and her master's from Boston University School of Public Health.