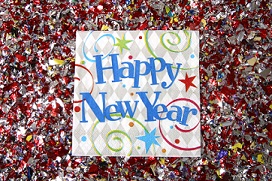 Americans spend more money on dieting products and weight loss surgery than any other country in the world. It is no wonder weight loss is also our number one New Year resolution!
There are many different theories as to why Americans are consumed by weight loss and achieving the ideal body. One theory is that the American health care system judges the health of patients based on Body Mass Index (BMI), even though there is no direct correlation between the two. The media also portrays thinner people as happy, and we begin to think all our problems will be solved if we just look like that. If we just lose weight.
There are many risk factors associated with dieting which include low energy, muscle loss, and poor concentration. A study published by the University of Colorado stated that 35% of people who started a casual diet became addicted. This can lead to severe health issues.
Just like health is not equivalent to BMI, thin does not equal happy. However, here are 7 tried and true ways that do increase happiness:
Happiness is Not One-Size-Fits-All:
Make time to do what you enjoy. For example, many people love yoga and swear it can fix any ailment. I on the other hand find it painful and anxiety provoking. What I do enjoy is stretching and meditating on my own at home. Saving $100 a month on a membership fee eases my anxiety as well.
Challenge Yourself!
Set small goals daily, weekly, or monthly. Try a new class at the gym, or register for a course of interest at your local college. Even the smallest accomplishment feels great!
Money Can Buy Happiness:
Let me clarify. Money can buy happiness if you spend it on someone else. Try sending a coworker a card or flowers to show appreciation of their hard work, or pay for the gentleman's coffee behind you. You don't need to spend a lot!
Be Grateful:
Remind yourself of all the (non-monetary) gifts you have in your life. Write one thing you are grateful for on a piece of paper every day, and put it away in a box. Start on January 1st, and continue until December 31st. At the end of the year, open the box and remind yourself of all the great things in your life!
Smile!
Energy is contagious! What you put into the world you get back.
Live in the Moment:
We all have had obstacles to overcome in the past. These hard times helped shape who we are today, and we are stronger because of it.
Don't worry about the future. By working on yourself and being the best you can be today, you will help pave the path for a positive future.
Forgive Yourself:
We are our own worst critics. Forgive yourself today, and start fresh tomorrow.
Thank you 2015 for all you have taught me, and cheers to a memorable and happy 2016!
####

Haley Convertino is the Marketing and Community Relations Specialist for Walden Behavioral Care's Amherst and Worcester Clinics. She is also a Certified Personal Trainer, and enjoys traveling and learning new ways to live a healthy and happy life.