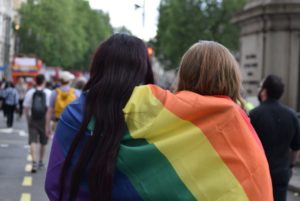 There is no shortage of research demonstrating a higher prevalence of eating disorders among the lesbian, gay, bisexual, transgender, queer and questioning (LGBTQ) community. A 2015 study published in the Journal of Adolescent Health, for instance, revealed that an eating disorder diagnosis is highest among individuals who identify as transgender, and higher still among people who identify as a sexual minority (i.e., lesbian, gay, bisexual) when compared with heterosexual women who identify as women (i.e., cisgender females). The Journal of Social and Clinical Psychology revealed gay and bisexual men exhibit symptoms of eating disorders at a rate of ten times more than heterosexual men.
Despite this, there's little evidence-based research on effective treatment practices for this population, sometimes making it difficult for healthcare providers to meet the distinct needs of the LGBTQ community. Additionally, many providers lack adequate knowledge of the unique issues faced by LGBTQ people, such as life stressors due to marginalization, the ways in which bodies and identities intersect and the importance of establishing outpatient providers that are welcoming and educated about their specific needs.
Inclusive treatment environments – built on knowledge, respect, empathy and understanding for everyone – are imperative. Based on my work as an eating disorder specialist, and my own experience as a member of the LGBTQ community, I'd like to share a few tips:
1.) Develop cultural humility. This is defined as the "ability to maintain an interpersonal stance that is other-oriented (or open to the other) in relation to aspects of cultural identity that are most important to the person." Cultural humility should be viewed as an evolving concept, not a predefined end product. This requires gaining an understanding through self-education so as not to tokenize a person or group of people. We can act equitably by reading books, blogs and pausing in conversation to make room for other, perhaps-less often-heard, voices.
2.) Include names and pronouns during introductions. This not only applies to clients, but for ourselves and our colleagues. By introducing ourselves using names and pronouns and asking the name and preferred pronouns of those we meet, regardless of whether they choose to answer, we side step treating people differently based on our own assumptions and biases.
3.) Properly identify gender neutral spaces. Although gender-neutral bathrooms are becoming more common in workplaces, college campuses and other public areas across America, more can be done. Explicit signage – such as gender-neutral bathroom signage, rainbow decals or transgender flags – is highly encouraged. They communicate a welcoming and safe space for all types of individuals. Signage that is not backed up through staff training can be more harmful as the person may have let their guard down and feel more vulnerable to offenses.
4.) Host a training. Knowledge is powerful in creating inclusive settings. There are many great organizations offering workplace trainings, some free of charge. This includes a local chapter of Gay, Lesbian, and Straight Education Network (GLSEN), Massachusetts Trans Political Coalition (MTPC), Hispanic Black Gay Coalition (HBGC) and/or your local college's LGBTQ Center.
Change is a process, and signage, training and self-education is a good place to start – though not the ending point. A more complete list of best practices on working with LGBTQ populations, as recommended by the APA (American Psychological Association), can be found here.
For members of the LGBTQ community seeking help for eating disorders, Walden offers key resources and a dedicated treatment track.
If you're anything like me, you may have a plethora of questions about things you've read, thought or heard. Feel free to email me and we can make sense of it all together. CLANG@Waldenbehavioralcare.com.
####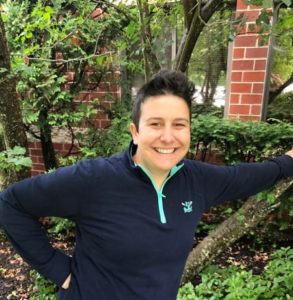 Christine Lang, MSW, M.Div., is an adolescent clinician in the partial hospitalization and intensive outpatient programs in Amherst, providing individual, family and group counseling for adolescents and families with eating disorders. She received her bachelor's degree in Psychology and English from Clark University, a master's of divinity from Pacific School of Religion, and a master's degree in Clinical Social Work from Simmons College. Christine is particularly interested in working at the intersection of trauma and addiction, and how that connects to identities of gender, sexuality and religion/spirituality. She utilizes Motivational Interviewing, Cognitive Behavioral Therapy, and Dialectical Behavior Therapy in her relational, strengths based and trauma-informed approach. In her spare time she enjoys reading and writing poetry, taking pictures outside and spending time with friends and family.